Not just another brick in the wall
"We have spent the last two years working on every brick in our shop's walls…"
When we read this statement on the website of Hedonism, Mayfair's simultaneously mind-blowing and mind-expanding destination wine and spirit boutique, we knew that Golden Decanters had found a worthy home for our inaugural collection. Having spent the past two years painstakingly combing Scotland's most prestigious distilleries for that most elusive elixir; the ultimate expression of single malt perfection, we 'get' obsessive attention to detail – it's our badge of honour.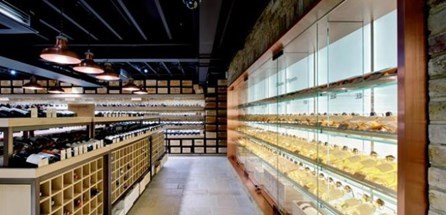 Hedonism is the "most talked about wine project in recent times" and we are beyond ecstatic to see the Golden Decanters collection on their bespoke shelves. When your shelf-mates include Macallan Lalique 3 57YO and the Private Collection Ultra G&M Four Bottle Set, you know you're in good company! And what we love even more about Hedonism… the attentive staff, the emphasis on product… In fact, we can't choose. You're just going to have to stop by and decide for yourself!
Slàinte!
Ann and Julia
Find out how to make a purchase.